Price Per Ton
Gravel Boulders $80
Natural Sandstone $100
Granite Boulders $150
3'+ Round Boulders $150
Gold Stick $150
Chocolate Stick $150
Barnstone $150
Prices are subject to change without notice. Please call ahead for bulk discount rates on large jobs.
24 hour notice is required for assistance loading boulders.
---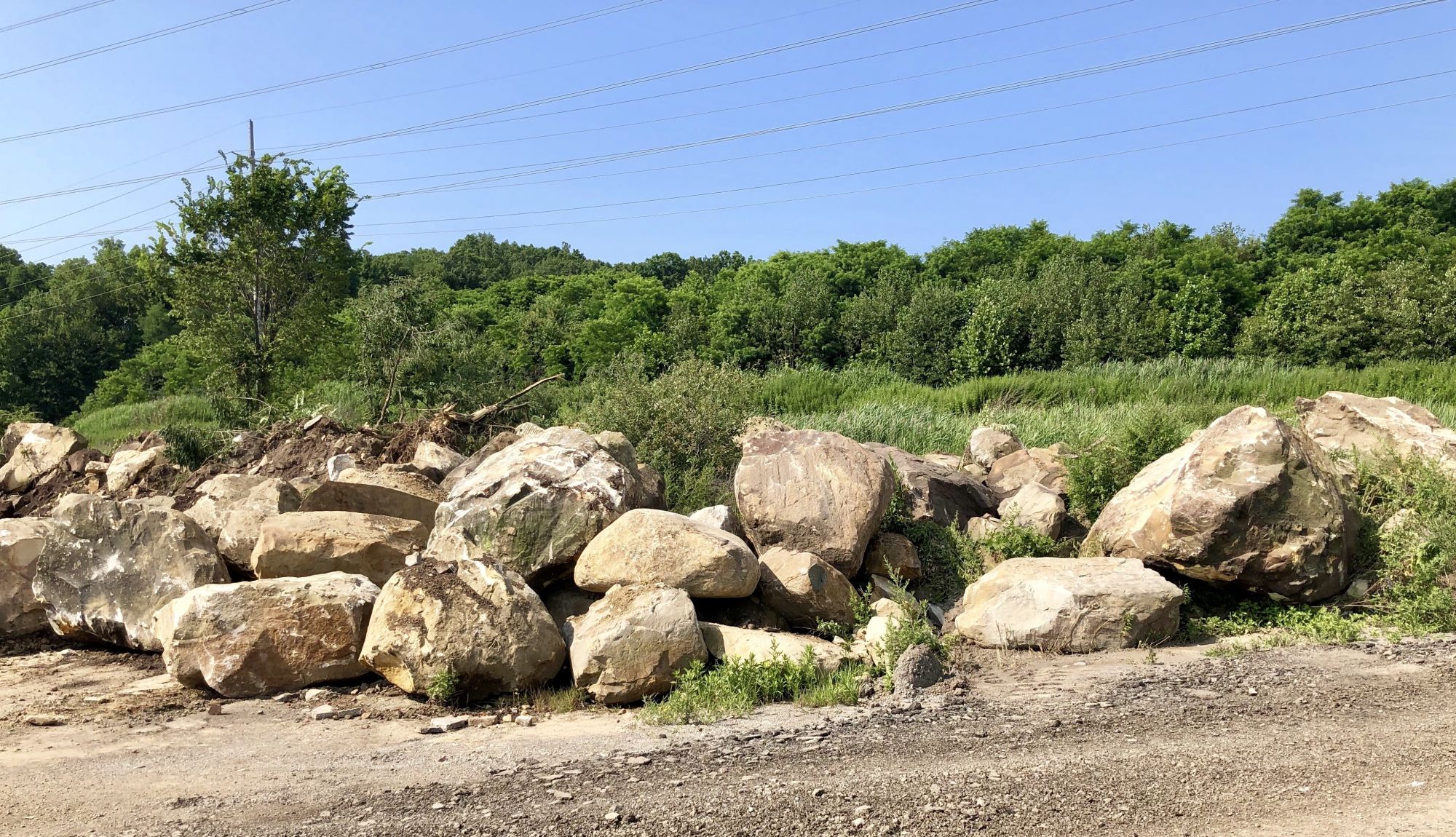 Landscaping Boulders in Cleveland, Ohio
Adding boulders to your landscape provides a strong but maintenance-free focal point and can go far to enhance your overall design scheme. Boulders also serve a practical purpose, preventing vehicle and foot traffic in or near utility lines, wet areas, or prized plantings. They can also add a personal touch and set your property apart.
Natural materials bring a sense of cohesion and can really help to ground your outdoor space. Boulders vary greatly by types of rock and have different components and qualities that could lend themselves best to your landscaping style or their end purpose. Sizing is also key, because a boulder that's too large or too small in a space will end up creating an awkward visual. The Boyas team can help you to decide on the best color, shape, material, and size of boulder for your landscaping needs.
Boulders are dense and heavy and depending on size can weigh from a few hundred pounds up to a thousand or more. We can give tips on how best to get your new boulder home and settled into its perfect spot. So reach out today and learn how you can add dimension and depth to any landscape design with boulders and other landscape rocks from Boyas.
Types of Boulders at Boyas
Gravel Boulders
These could be made of sandstone, limestone, basalt, or other types of rock and typically lend a utilitarian or modern edge to a space.
Natural Sandstone Boulders
Often featuring natural striations, coarse grain, and a warm hue, sandstone is a well-loved landscaping material.
Granite Boulders
While they can be various colors, we often associate granite with a cool gray tone or salt-and-pepper coloration, a coarse grain, and shapes that range from angular to rounded.
3'+ Round Boulders
For large spaces these boulders hold a presence and help to ground a landscape, pairing well with smaller selections.
Gold Stick Boulders
With a definite rich, golden tone, these boulders have a more angular form and can warm up a space.
Chocolate Stick Boulders
Moody, modern, and subdued describe the dark cocoa tones of this angular and refined option.